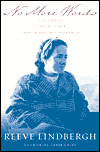 No More Words: A Journal of My Mother, Anne Morrow Lindbergh
Hardcover
Reeve Lindbergh
In 1999 Anne Morrow Lindbergh, the famed aviator and author, moved from her home in Connecticut to the farm in Vermont where her daughter, Reeve, and Reeve's family live.

Mrs. Lindbergh was in her nineties and had been rendered nearly speechless years earlier by a series of small strokes that also left her frail and dependent on others for her care. No More Words is a moving and compassionate memoir by Reeve Lindbergh of the final seventeen months of her mother's life. Reeve Lindbergh is an accomplished author who had learned to write in part by reading her mother's many books--among them the international bestseller Gift from the Sea--and also by absorbing her mother's careful and intimate way of examining the world around her. So Reeve's inability to communicate with her mother, a woman long recognized in her family and throughout the world as a gifted communicator, left her daughter deeply saddened and frustrated. Worse, from time to time Mrs. Lindbergh would offer a comment or observation that seemed harsh, shocking, or simply unrelated to the events around her, leaving Reeve anxious and distressed about what her mother might be thinking. Anyone who has had to care for an elderly parent disabled by Alzheimer's or stroke will understand immediately the heartache and anguish Reeve suffered.

Reeve writes with great sensitivity and sympathy for her mother's plight, while also analyzing her own conflicting feelings. Mrs. Lindbergh was fortunate to have full-time care, but a tremendous emotional burden still fell on Reeve. And even as she worried about her mother's long silences and enigmatic remarks, and monitored her daily care, Reeve had her husband and son to look after. But mixed with the sadness and responsibility were moments of humor and happiness, and even an eventual understanding, all the more treasured for being so unexpected.

No More Words is a tender tribute from daughter to mother, from one writer to another who was her model and mentor. It is a loving and poignant work, rich with insight into life's final stage.