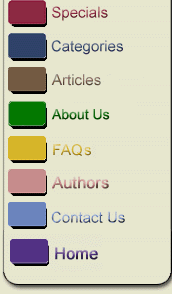 Frequently Asked Questions
How did SignedEditions get started?
SignedEditions.net started nearly 10 years ago. The owner of YOURidea bookstore, Janine Weins, hosted a local talk radio show. When she interviewed authors, she would have them sign a few books for resale later to customers who valued the author and their works.

In 1989 YOURidea Bookstore was asked by the developer of a boutique web site if they could develop a site that offered unique and valuable products. SignedEditions.net was developed because the most unique and valuable items YOURidea Bookstore sold were autographed books.

For a narrative version of how SignedEditions got started read the Elwood & Agnolia article, "It Started With a Talk Radio Guest".
How do you obtain signed books?
We obtain signed books in several ways:
Many authors sign books when they visit YOURidea Bookstore for a book signing, or to be a guest on the talk radio program, TwinState Journal.
Some authors we and our customers are particularly interested in we contact directly. President Jimmy Carter, Mary Higgins Clark, Henry Petroski, Diane Mott Davidson and Tim Robbins are authors who, after we contacted them, agreed to sign books for you, our customers.
Some authors such as Peter Mayle, who lives in Europe, and Tom Brokaw who are very busy, sign bookplates which are affixed to copies of their book.
Sometimes one of our staff members will travel to an author's home, or to a place where they will be presenting a program. One of our staff met Natalie Kinsey-Warnock at a school function, and the store owner drove to near the Canadian border to get Jules Older to sign his books.
Sometimes the author's publicist or their publishing house arranges for us to have autographed books. We have Putnam Publishing to thank for arranging for Robert Parker to sign books for SignedEditions. We have the publicist to thank for arranging for us to have copies of the New York Times Best seller "The Dying Animal" by Philip Roth.
What is a Bookplate?
A bookplate is a label that is permanently affixed to the inside of a book. Bookplates may be used to identify the owner of a book, or to capture the signature of the author or illustrator.
Are the books and bookplates actually signed?
The books and bookplates are individually signed. The authors do not use rubber stamps, or a printer to reproduce their signatures. Each signed book is unique, and each book or bookplate has been in the hands of the author.
Do you appraise books?
We do not appraise books. We are not rare book dealers, and are not familiar with the rare book market, thus we do not do appraisals.
Do you carry used books?
We do not sell used books. We carry new books. Although some of the books we offer are out of print titles, all of the books we sell are new books.
Do you take credit cards?
Yes. We can accept Master Charge, Visa, American Express and Discover. When entering your credit card number, do not use spaces or dashes.
Are all your Authors from the New England Area?
Initially most of our authors were from New England. As we have grown we have added to our inventory books autographed by authors across the United States and in many foreign countries.