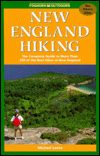 New England Hiking: The Complete Guide to 380 of the Best Hikes in New England
Paperback
Michael Lanza
Explore the best of New England with the Hiker's Bible! Syndicated outdoor columnist Michael Lanza traversed more than a thousand miles to compile this one-of-a-kind guide. Perfect for families, day hikers, and hard-core trekkers, New England Hiking features:
More than 350 of the best hikes in the six New England states, each packed with detailed trail notes and expert advice.
The top trails in the region's premier parks and public lands, including the Green Mountains of Vermont, Maine's Baxter State Park, and the White Mountains in New Hampshire, plus over 100 detailed hikes along the famed Appalachian Trail.
Insider's tips on finding the most scenic trails, the best hikes to view fall foliage, the most remote trails, the best outings for kids, plus much more.
At-a-glance ratings of each hike's overall appeal and level of difficulty, plus trail distances and estimated hiking times.
Up-to-date information on fees, regulating, maps, permits, and contacts for each trail.
Complete trail access information for wheelchair users, mountain bikers, horseback riders, hunters, cross-country skiers, snowshoers, and dog lovers.
An extensive index to help you find the perfect hike, plus easy-to-use maps and detailed directions for every trail in the book.