Cheryl Richardson,
Best Selling Author & Massachusetts Resident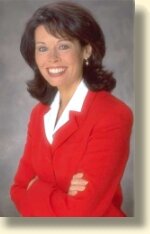 Cheryl Richardson, author of The New York Times bestselling book Take Time for Your Life: A Personal Coach's Seven Step Program for Creating the Life You Want, supports busy people in achieving professional success without compromising their quality of life. Voted one of the top ten coaches in America by readers of The Professional Coach, she was the first president of the International Coach Federation and holds one of their first Master Certified Coach credentials.
As a professional speaker, Cheryl has designed and presented programs to universities, Fortune 500 companies, educational conferences, and professional associations. Her work has been covered widely in the media including The Oprah Winfrey Show, CBS This Morning, New York Times, Cosmopolitan, Good Housekeeping, Health Magazine, New Age Magazine, Publisher's Weekly and a cover story in the Boston Sunday Globe Magazine. Cheryl is an on-line expert for OnHealth.com, where she writes a regular column dedicated to self-care that reaches over one million readers each month. Her new book, Life Makeovers: 52 Practical and Inspiring Ways to Improve Your Life One Week at a Time, will be released in September of 2000.