Nevada Barr,
Best Selling Author & Mississippi Resident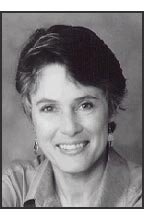 "Nevada Barr has carved out her own fictional fiefdom, creating a body of work like no other," the San Diego Union Tribune remarked in 1996 upon the publication of the fifth book in Barr's acclaimed series featuring National Park Service Ranger Anna Pigeon. Since the 1993 publication of the first Anna Pigeon novel, Track of the Cat, which was awarded both the Anthony Award for Best First Novel by The Crime Writers Association and the Agatha Award for Best First Novel by Malice Domestic, Barr has earned a reputation as a talented and much admired writer. As the Chicago Tribune said, "Nevada Barr is a park ranger who can write up a storm."
The daughter of two pilots, Barr bears the name of the state in which she was born. She grew up at a little mountain airport in Johnsonville, California. After attending college at Cal Poly San Luis Obispo and completing her graduate studies at the University of California at Irvine, she moved to New York City to pursue a career in theater. She stayed there for five years, as a member of the Classic Stage Company, performing in Off-Broadway shows.
From New York, Barr went to Minneapolis, where she tried her hand at more theater work, landed some spots on television commercials, and worked on industrial films, among other things. Her former husband was involved in the Park Service, which inspired her interest in wildlife and conservation, and eventually led to the profession that until recently she shared with her main character: National Park Service Ranger.
When she felt she could afford to, Barr began to work summers at various parks, and spent her winters pursuing a career in writing. She published her first novel, Bittersweet, in 1984, but it was during her tour of duty in Guadalupe Mountains in Texas, that Barr conceived of the Anna Pigeon character and began the series with her critically acclaimed, award-winning debut, Track of the Cat, in 1993. She then followed up with seven more novels set in various National Parks: A Superior Death (1994) set in mesa Verde National Park in Colorado; Ill Wind (1995) set in Isle Royal National Park in Michigan; Firestorm (1996), which was awarded France's Prix du Roman d'Adventure and nominated for Anthony Award for Best Novel, set in Lassen Volcanic National Park in California; Endangered Species (1997) set in Georgia"s Cumberland Island National Seashore; Blind Descent (1998) set in Carlsbad Caverns National Park in New Mexico; and Liberty Falling (1999) set at Liberty and Ellis Islands in New York City.
Barr's eighth novel featuring Anna Pigeon, Deep South, (March 2000) is set in the Natchez Trace Parkway in Mississippi.
Nevada Barr lives with her husband in Clinton, Mississippi.